Showbiz
Super Sex Bombs
Saving the world
The Sex Bomb Girls rose to superstardom in an explosive fashion. In just a short while, the Eat Bulaga dancers who cheer contestants in the noon-time show's Laban o Bawi contest became a household name and recording artists of BMG Records and Universal Records. People all over the Philippines, young and old alike, male and female (including the Balikbayan bunch), go ga-ga over these 14 pretty little ladies and follow them wherever they go.
Much had been said about the Sex Bomb Girls: their vital statistics, cellphone and home numbers, favorite color, the shampoo they use and every nook and cranny of their personal life. But unknown to fans, the Sex Bomb Girls can do more than just sing, dance and act. In this time of crimes, they would like to champion good against evil so we will all have a peaceful society to live in.
Balikbayan spies Windsor John Genova and Jun Garcia explored the superhero in each of the 14 Sex Bomb beauties and how they would use their imaginary superpowers in saving mankind from the scums of the universe.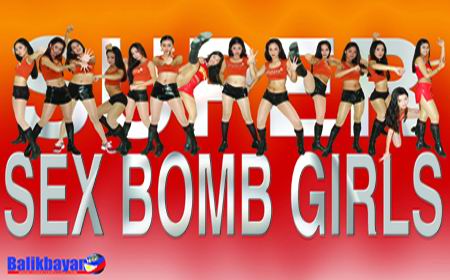 As the Filipino people are tensely glued to their TV sets wondering if the number 1 or 0 will appear on the cardboard being pulled by Eat Bulaga host Vic Sotto from a row of boxes, Sex Bomb Girl Rochelle Pangilinan sensed something evil somewhere in the Middle Eastern desert. In her mind, she sees a bearded man in white robe and headdress ordering his bemoustached men, who looks exactly like him, to start launching nuclear missiles pointed to major cities of the world.
Sex Bomb #1
Rochelle Pangilinan
20 years old
Superhero: Astroboy
Powers: flying, breathe in outer space, psychic
Rochelle quickly transforms into Astrogirl unnoticed by televiewers. She soars high to heaven in split-second. Upon reaching outer space, she floats in zero-gravity while her eyes roam the surface of the earth. Her vision focuses on a desert location where the missiles stood. Then she dives to the spot and lands there instantly catching the missile men by surprise.
"Manu-mano tayo," the Astrogirl dares their leader. Underestimating the Sex Bomb's power, he obliges. The next thing he knows, he was knocked down to the ground by the girl's swift blows. His men, then runs after her.
But before they could lay their hands on her, two Sex Bomb girls pop out from under the sands.
Sex Bomb #2
Florentina "Weng" Ibarra
19 years old
Superhero: A Charlie's Angel
Powers: spying, painful pinch
Sex Bomb #3
Eikaliz P. Bermudez
19 years old
Superhero: Tomb Raider
Powers: firing guns while tumbling
The Angel starts pinching the men into submission. Then she shouts: "Magbabago na ba kayo?!" The men nod as they cringe in pain.
The Raider rolls over and over while firing her two triple-barreled handguns. She hits all her targets and the remaining men kneels in surrender.
When the gun smoke cleared, only the three Sex Bomb girls remain standing. Astrogirl thanks the two for helping her. They destroy the nuclear missiles.
In Cavite, the little lady president is looking at the body of a slain kidnapper as photographers take her picture. Everyone is busy talking to the president so no one notices that the kidnapper is still alive. He pulls out a pen gun and aims at the unsuspecting president. He pulls the trigger but before the bullet can pierce the target's heart, it slams to the bullet-proof body armor of Robo-Jopay.
Sex Bomb #4
Diofanny "Jopay" Paguia
19 years old
Superhero: Robocop
Powers: Bullet-proof body armor
The assassination attempt is foiled. The kidnapper dies for good in utter frustration. Everyone is shocked. In gratitude, the little president offers Robo-Jopay a job as her personal bodyguard.
"Ipagtatanggol kita. Pag binaril ka, ako ang haharap. Tignan ko lang kung kakayanin nila ang tigas ko. Bakal yata to-its," the Sex Bomb girl exclaims.
Nearby, five men are robbing a bank. The policemen, who are stationed just 30 meters away from the crime scene, do not notice anything wrong as they watch the Philippine-China Busan Games basketball match on TV. But fortunately, Supergirl Johlan is passing by.
Sex Bomb #5
Johlan Veluz
17 years old
Superhero: Supergirl
Powers: steel-strength body, flying, power punch, x-ray vision
Supergirl Johlan, who has the ability to be wherever robbers and holduppers are, sees through the wall of the bank and comes to the hold-up scene at once. She beats the robbers black and blue, then turns them over to the police.
The sky turns dark and lightning strikes accompanied by loud thunders. It's the sign of the Sandy Storm coming.
Sex Bomb #6
Sandy Tolentino
19 years old
Superhero: Storm (X-men)
Powers: lightning and storm
Sex Bomb Sandy turns up in a street of Tondo, where people are running away from a bolo-wielding man running in amok. She unleashed lightning from her hands and it strikes the bolo of the amok. The bolo blade obliterates from his hand. He sees Storm and charges to her in rage. With another flick of her fingers, rain wets the ground and he slips. He tries to stand up but a strong wind blows him away and knocks him down. The rattled amok is then taken away by barangay tanod.
It is not yet over for Sandy Storm. He sees a man peeing on a wall. She summons a loud thunder that frightens the man and interrupts his urination. He leaves in shame.
A car with a drunk driver on the wheel speeds towards Storm. But strong wind stops the car on its track. The driver is taken away by barangay tanod.
At the pier, several men load smuggled goods from a trailer van into a truck. Then they hear a whistle and a lady in pink approaches them.
Sex Bomb #7
Cherryl "Che-Che" Tolentino
17 years old
Superhero: Pink Five (Bioman)
Powers: karate chops with feelings
Pink Bio-Che-Che, Sandy Storm's sister, gives them karate chops with feelings and they fall down one by one.
"Uubusin ko lahat ng mga smugglers!" she warns the fallen men before leaving. Customs police arrives at the scene and arrests the smugglers.
Inside a VIP room of a videoke bar, a commission-er and tong-ressman are talking. The corrupt government official hands over a brief case loaded with a million peso to the politician. He says the money is his share for approving a public road project to a private contractor that also earned him a fat commission. Suddenly, another Angel of Charlie barges in accompanied by policemen.
Sex Bomb #8
Maryknoll "Mae" Acosta
19 years old
Superhero: A Charlie's Angel
Powers: solves crime and conspiracy in government
The Angel declares the two under arrest for plunder. The policemen then whisks them away.

Two sexy ladies are walking in a dark alley when two men each poked a knife at them. They tell them to undress. Calmly, the ladies start to undress. Seconds later, the night is shattered by a scream. The scream of one of the rapists in pain...

Sex Bomb #9
Mia Vel Pangyarihan
19 years old
Superhero: Catwoman
Powers: long and sharp fingernails
The lady turns out to be Catwoman Mia. She just clawed her attacker in the face and groin.
The other rapist is blown up and crashes to the ground.
Sex Bomb #10
Monina "Monique" Icban
18 years old
Superhero: Chun Li (Street Fighter)
Powers: fireball, fast kicks
Street Fighter Monique just unleashed a 'Hareyuken' or fireball from her hands that hit her attacker right on the spot where it hurts most. As the rapist grimaces in pain, the Sexbomb tells him, "Kayong mga manyakis dyan, kung ayaw nyong mabasag ang hindi dapat mabasag eh tumino na kayo. Baka ma-Hareyuken kayo ng hindi oras."
The nocturnal barangay tanod, comes to the scene and takes the rapist to the police station.
In a bus terminal, a knife-wielding man suddenly takes a boy hostage. The passengers are shocked and the security guards are caught by surprise. They don't know what to do and how to rescue the child from the hostager. The hostager, nervous and with his back on the wall, demands that he be taken to Mindanao via a free bus ride. Else, he will do something nasty.
To his horror, a hand grabbed his hair from nowhere.
Sex Bomb #11
Jacqueline "Jackie" Rivas
17 years old
Superhero: Spiderman
Powers: attach and crawl on walls, quick reflex
Spider Jackie is attached to the wall above the hostager as she pulls his hair. Frightened by the wall-crawler, the man lets loose his hostage and drops the knife. The security guards and policemen pounce on the man and overpower him.
A drug pusher is selling a kilo of shabu to a buyer in a dark alley of a slum area. As soon as the pack of shabu and thousands of pesos change hands, a lady shouts at them, "Walang kikilos!"
Sex Bomb #12
Mary Grace Nera
17 years old
Superhero: Wonderwoman
Powers: magic lasso, bullet proof wrist bands, quick reflex
The two men fire their guns at Wonderwoman Mary. She deflects the bullets with her trademark wristbands. With their guns ineffective, the men flee. The Sex Bomb hurls her magic lasso and caught the drug dealers. Then she pulls the two men down.
A man pours gasoline to a house and lights it on fire. He quickly runs away as the fire quickly engulfs the house. People panic and call for help. A girl rushes to their rescue.
Sex Bomb #13
Yvette Pabala
18 years old
Superhero: Sakura
Powers: magical playing cards
Sex Bomb Sakura raises her hands and out comes a card and a wand. She holds the wand and hits the flying card with it. As she does this, she calls out loud the name Prince of Water. A flash of light temporarily blinds the people and the Prince of Water comes out of the card. The Prince of Water releases a jet of water from his hands towards the direction of the house on fire. The fire is instantly extinguished.

Three men break into a house and started stealing a component, TV set and a computer set. As they were about to leave, a lady opens the main door and confronts them.

Sex Bomb #14
Charizza "Izzy" Tirazona
20 years old
Superhero: Darna
Powers: flying, carry heavy weights
The three burglars lay down their loots and attack Darna Izzy with knives. But the Sex Bomb girl quickly parries their stabs and disarms them. Then she grabs them by the collar and flies out of the house. Once on air, she drops them to the ground knocking them unconscious.

"Spy on me baby use a satellite, infrared me through the night. Ready, aim, fire! Shoot me right. I'm gonna like the way you fight...Sex Bomb, Sex Bomb. You're my Sex Bomb..."

THE END


The characters portrayed in the story above are fictional. Any resemblance to real people is purely coincidental. - Ed
Angelica Jones is RP's Britney Spears. Owss?!
Would you agree na ang beautiful singer-actress na si Angelica Jones ang Britney Spears ng Pilipinas? See for yourself na lang if she really can duplicate Britney's "Baby One More Time" and "Crazy" sa kanyang concert this month sa Las Vegas at sa Tokyo on December.
Angelica has been doing local and international concerts performing song and dance numbers like the famous British pop artist. She also guests in different TV programs.
She turned down offers to do bold movies saying that she is happy and satisfied with her singing career and she wants to maintain her wholesome image.
According to her mom-manager Beth Jones, Angelica has improved a lot in acting, singing and dancing, and even events hosting. "Gustong-gusto siya ng mga direktor ngayon kase laging take-one lang siya," says the proud mom. Sige na nga!!!
Ivy Violan vs. Jackielou Blanco in bodybuilding war
Singer Ivy Violan is concentrating more on dumbbells than microphones as she prepares to battle actress Jackielou Blanco in the Slimmer's World Fitness Competition on December. Jackielou's trainer Christine Yu is also Ivy's trainer.
Ivy won a bench press competition back in 1998 at the Gold gym, where she started physical fitness for health reasons. Motivated by Jackielou's success, she now wants to try it all again and excel in bodybuilding.
Ivy said that getting into this kind of activity requires a lot of mental and physical discipline. But with Jackie as her companion-competitor doesn't bother her much. She's very much in good shape and she knows her limitation and capacity as well. If she was able to win singing competitions abroad because of hard work and dedication, who knows what she can get in this field this time? Good luck!
Going to Graceland
Want to go to Graceland, the house-museum of Rock and Roll King Elvis Presley in Memphis, Tennessee? Well, wear that trademark Elvis cape and blue suede shoes, sport a sideburn and sing any of the King's hits with matching knee-shakes and presto! You're off to that nostalgic tourist attraction in the US. That's what 45-year-old Union Cement purchasing manager Albert "Boy Elvis" Sanchez did on the Discovery Travel & Adventure Channel Elvis Presley Look-Alike & Sing-Alike of the Philippines contest held at the Dish resto in Rockwell Mall last Aug. 16, the 25th death anniversary of the singing legend. Boy Elvis caught the jampacked crowd's heart with his costume, rendition of "Polk Salad Annie" and showmanship to win first prize: the Graceland trip plus P10,000 pocket money.
John Sandoval, 31, of Mandaluyong City won second prize of P8,000 with his "Hound Dog" while Richie Barangan, 26, of Paranaque City, landed third place and P5,000 cash with his "American Trilogy." Nine other contestants showed their talents in the finals. Indeed, Elvis is alive and singing!
Fil-Ams help Musikerong Bumbong
Bulaceños, particularly members of Musikerong Kawayan ng Hagonoy, are grateful to their kababayan in the USA and the Samahang Hagonoy in Southern California. Bulacan couple Cesar and Letty Reyes, who own L & C's Tours, sponsored a Las Vegas tour for the young musicians of Musikerong Bumbong to promote the musical talents and ingenuity of Filipinos. Proceeds of the tour were also given to the unique musical group so it can continue its bamboo music tradition. E Fil-Am group Katipunan-USA and Jose "Paddy" M. Padilla Jr., an active leader of the Samahang Hagonoy, also helped the young children complete their musical instruments made from bamboo.